Grand Theft Auto 5 Takes Heat
Grand Theft Auto V, one of the most expensive computer games ever made, has caused outrage among human rights groups for including a torture scene in which the player must pull teeth and electrocute an unarmed man.
Freedom from Torture joined Amnesty, teachers' union the ATU and MP Keith Vaz in condemning the scene, just two days after the release of the game.
Players of the 18-rated game become career criminal Trevor Phillips, and in a mission within the game called 'By the Book' are commanded by the FBI to torture an alleged terrorist for information.
Players must complete the scene to finish the game and are offered a selection of torture implements, including sledgehammers and electric cables to use on the victim. If his heart stops, a shot of adrenaline restarts it.
Following the scene, the character drives the witness to the airport while lecturing his victim on how torture is a technique for exerting power.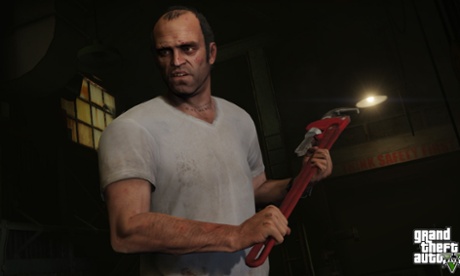 "Rockstar North has crossed a line by effectively forcing people to take on the role of a torturer and perform a series of unspeakable acts if they want to achieve success in the game," said Freedom from Torture chief executive Keith Best.
"Torture is a reality, not a game and glamourising it in popular culture undoes the work of organisations like Freedom from Torture and survivor activists to campaign against it.
Read the complete article at Grand Theft Auto 5 under fire for graphic torture scene – The Guardian